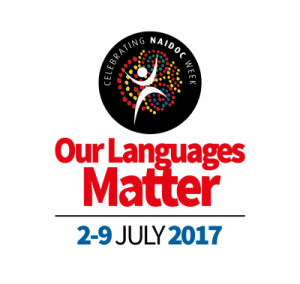 I was privileged to be invited to the NSW Aboriginal Education Consultative Group's (NSW AECG Inc) NAIDOC celebration. NAIDOC Week celebrates the history, culture and achievements of Aboriginal and Torres Strait Islander peoples.
"The 2017 theme – Our Languages Matter – aims to emphasise and celebrate the unique and essential role that Indigenous languages play in both cultural identity, linking people to their land and water, and in the transmission of Aboriginal and Torres Strait Islander history, spirituality and rites, through story and song."
The celebrations began with dance and song, including a group of young women from the Redfern Dance Co.
Dr Shayne T Williams spoke about the history of Aboriginal Languages in Australia and the colonial move to obliterate them. He was followed by Raymond Ingrey who described the Dharawal Language reclamation project, which focuses on preschoolers at La Perouse but includes parents too. Their aim is to build a generation of bilingual people who are able to walk in both worlds.
The NSW AECG "promotes respect, empowerment and self-determination and believes the process of collaborative consultation is integral to equal partnership and is fundamental to the achievement of equality."
"The primary role of the NSW AECG Inc. is to promote active participation by Aboriginal people in the consultative and decision making process of education and training related matters."
The NSW AECG runs a range of programs, including:
language programs

cultural awareness training, called Connecting to Country

Healthy Culture Healthy Country, which advances the importance of maintaining local Aboriginal languages and cultures through education and

STEM camps for Aboriginal students in remote and regional NSW.
It was great to be part of the NAIDOC celebration and to learn more about Aboriginal Language and Culture reclamation. It also gave me another opportunity to applaud the fine work of the NSW AECG.